Description
We update the version for 6 Riders BT Interphone In 2019
2 pcs V6 Pro Motorcycle Bluetooth Helmet Headset Intercom 6 Riders 1200M Wireless Motorbike Multi BT Interphone
7 languages user manual
Russian English French Spanish Italian German Japanese
850mAh supper capacity
V6 6 Riders Pro Intercom
we expand battery capacity to 850mAh,longer work time.
Ultrasonic technology,more waterproof
Suit for Motorcycle, Clycling, Skiing, Snowmobile, ATV
Support 6 Riders Connection, 2 Riders Talking At The Same Time
1200 meters Wireless Intercom, up To 120Km/h Working Speed
Safe Auto-Receiving Phone Calls, High Safety While Driving
Support to connect cellphone, mp3, GPS via Bluetooth function
+Extra Two Metal gasket as free gift , Strong enough!
Bluetooth 3.0, HSP, HFP, A2DP, AVRC profiles supported
Calls handling (Answers and rejects calls, automatically answers, last number redial)
1200 meters full duplex intercom
Supports 1200 meters maximum range full duplex intercom between two Bluetooth intercoms.
With DPS wind noise suppression to ensure the crystal clear voice quality when speeding along the highway.
Supports GPS navigation connection via bluetooth function
Receives navigator voice from the headset
Description
1.Support 6 riders to connect, 2 riders Talking at the same time
2.1200 meters Maximum talking range between 2 riders, Full Duplex wireless communication
3.Up to 120Km/h working speed
4.Up to 7 hours talking time
5.Safe Auto-receiving phone calls, make your driving safety
6.Enjoy your music/audio instruciton from your cell phone or audio device by Bluetooth A2DP
7.Wind noise DSP cancellation
8.Water-resistant, fully weather protection
9.Excellent performance for Full-face helmet & Half-face helemt ,Easy to install and remove, won't damage your helmet
10.Ideal for Motorcycling & Skiing sports; Gloves friendly
Stereo Speaker,more comfortable for your ears
Suitable for Full-face and Half-face helmet
· Rider to Pillion Intercom, Real Full Duplex Talking
· 1200 meters Wireless distance
· Safe Auto-Receiving phone calls
· Enjoy your cellphone stereo music by Bluetooth
· Suit for Motorcycling, Cycling, Skiing, Snowmobile, ATV, etc
. Waterproof design
​
7 languages user manual(Russian English French Spanish Italian German Japanese)
Russian user guide
Spanish user guide
English user guide
French user guide
Italian user guide
German user guide
Japanese user guide
Package List
· 2 x V6 Pro BT Interphone
· 2 x Headphones with hard Microphone
· 2 x Clip(plastic)
· 1 x Screw Driver
· 2 x USB Charging Cable
· 1 x User Manual(7 languages)
the package does not include the charger,but it include the charging usb cable,you can use any phone charger.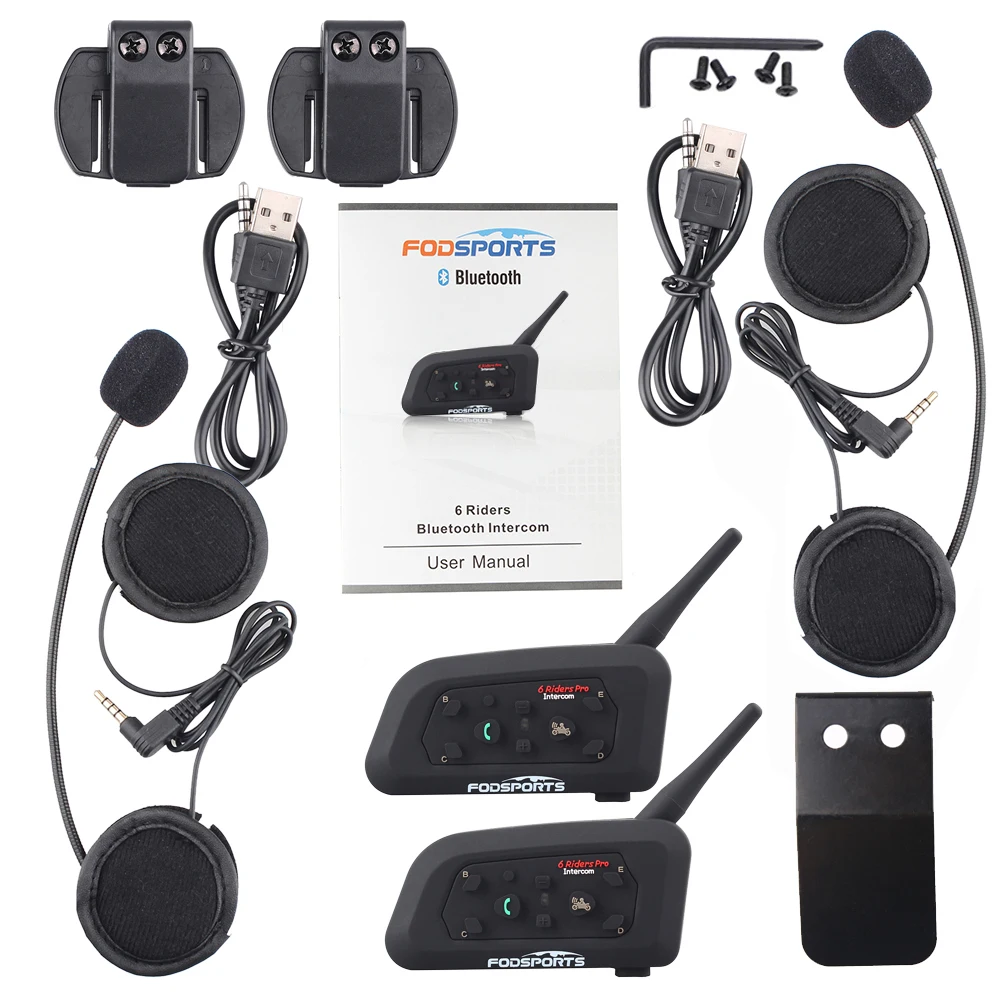 +Extra Two Metal gasket as free gift
If you need Only V6 intercom, please click below picture
more model,please click below picture if you need